I've always loved the look of a Fifties "greaser," the tight white T-shirt, black sunglasses and maybe a black leather jacket.  Though pompadours were common and have, I do admit, a stylistic appeal, I prefer what's referred to as the DA – Duck's Ass – hair slicked straight back.  A well placed tattoo or two round out the image.  But all is for naught without the pièce de résistance: muscle.
I grew up looking at my dad's old Muscle Builder/Power magazines from the early Fifties.  Men like Clancy Ross and John Grimek codified the look for me.  Rare as lifting and muscle was in the Fifties, for me, it was the most important component of manhood no matter what era.  Images like those below were indelibly marked on my psyche:
Reg Park had the look:
As did Freddy Oritz: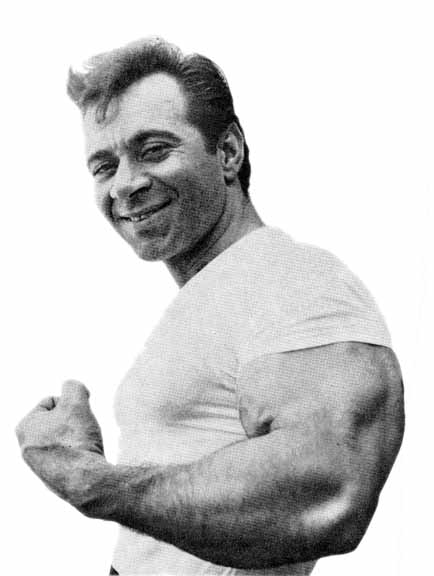 And don't let them tell you it turns to fat. Here's Oritz in his late 60s with his son.
Oritz around 70 years of age doing preacher curls. We should all look this incredible!
Bodybuilding in the Fifties and earlier valued strength not just appearance.  Here's Reg Park doing dumbbell presses.
And Steve Reeves doing dumbell inclines.
Because of my pre-teen exposure to 1949-52 muscle magazines the "greaser" will always be one with muscle.